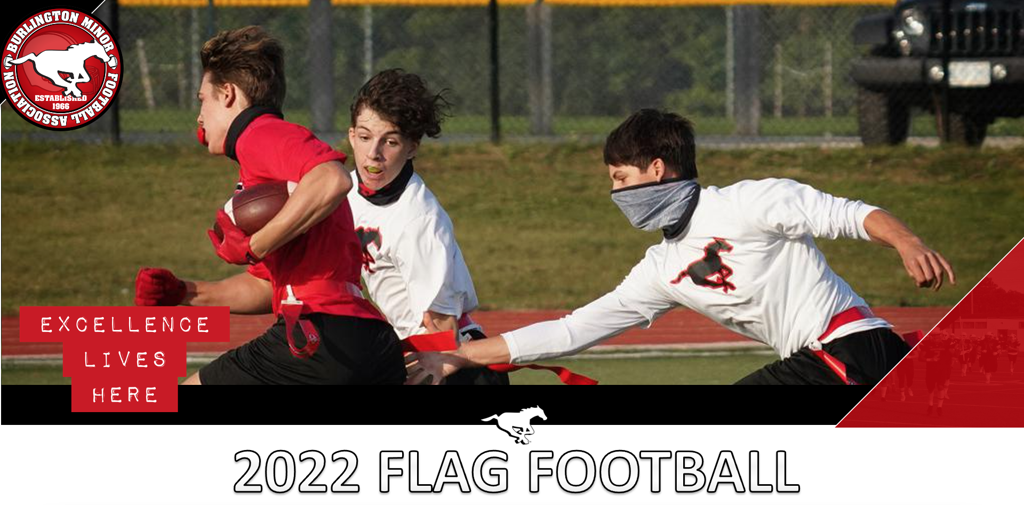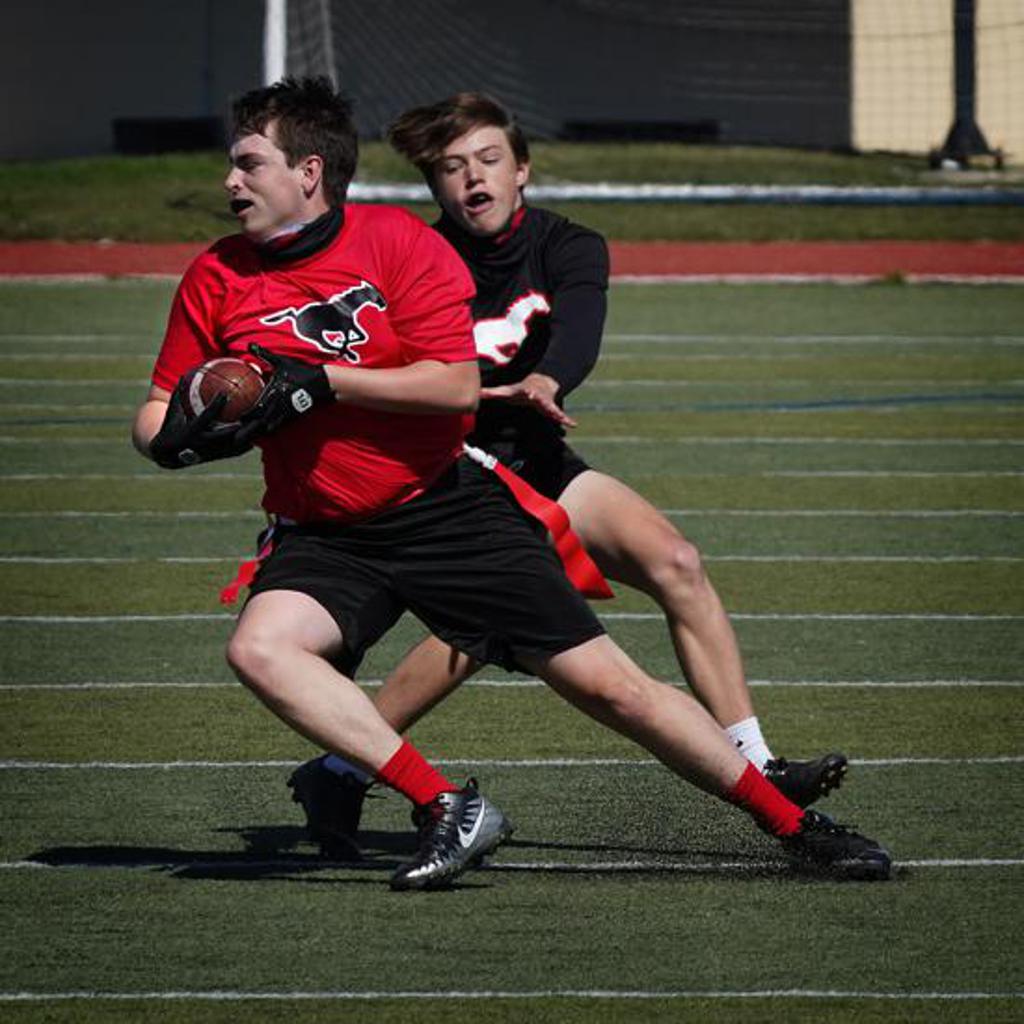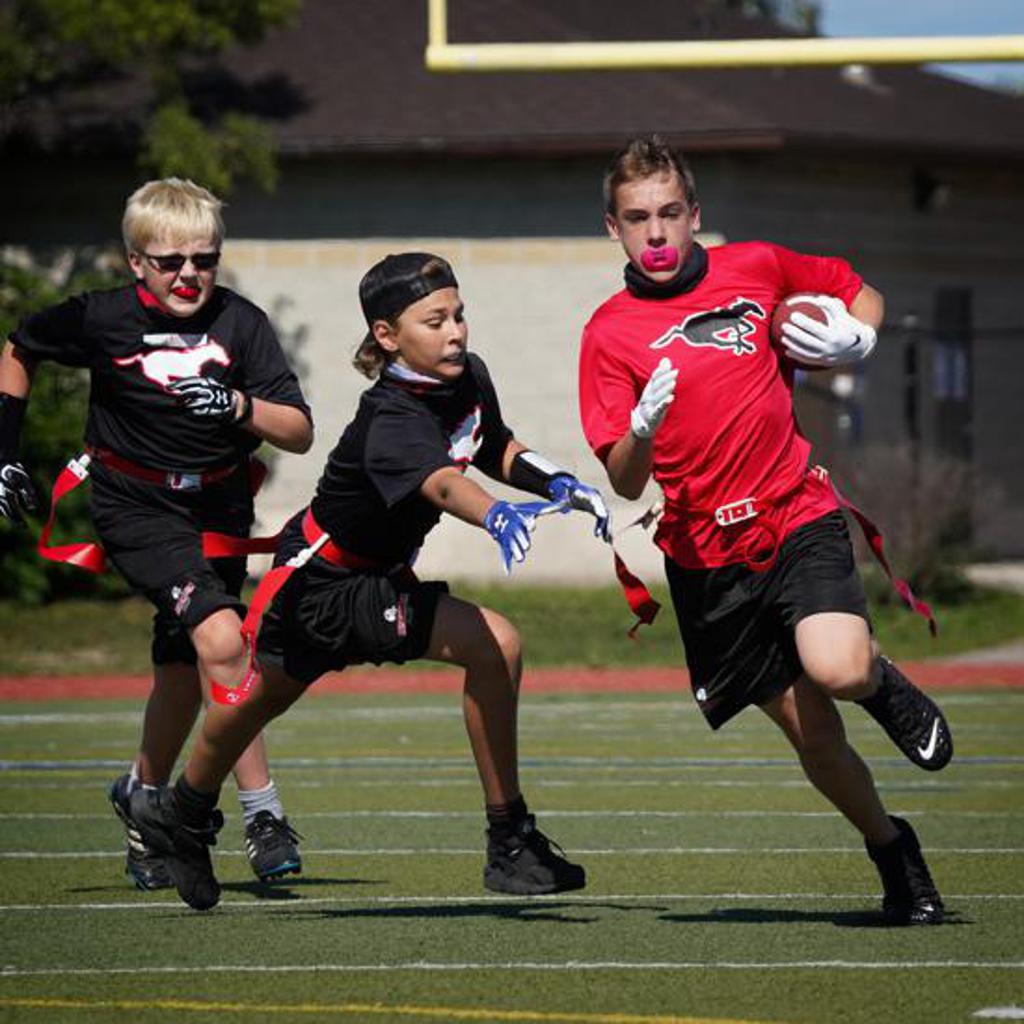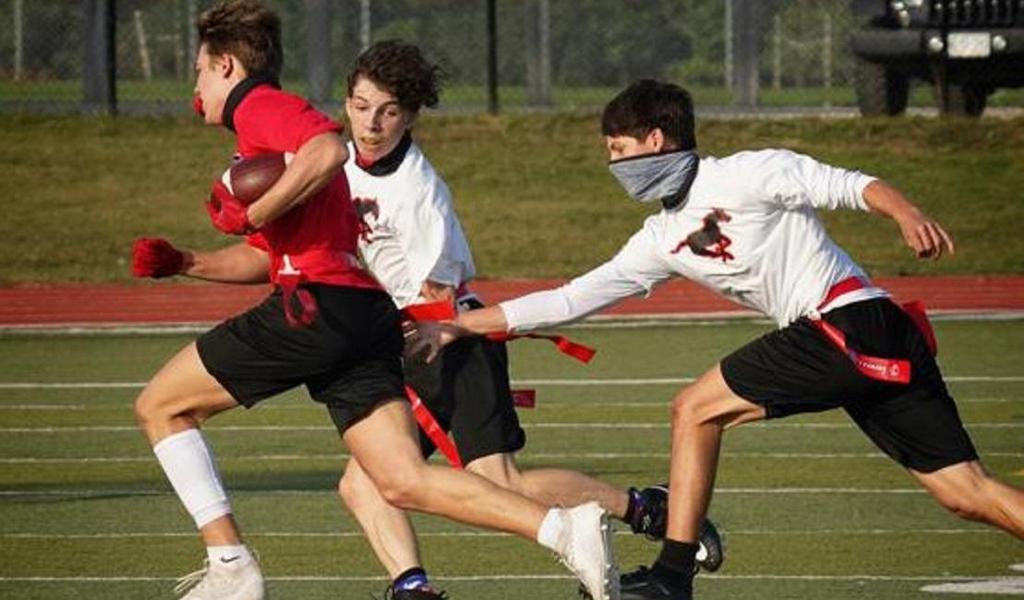 About Spring Flag Football
The Burlington Minor Football Association (BMFA) has designed a Flag Football program to give youth throughout Burlington and the surrounding communities an opportunity to participate in exciting and fast-paced Flag Football! Our non-contact flag football program is open to all boys and girls between 5 and 18 years of age.
Playing flag football provides opportunities to get active, learn new skills and get healthy. Best of all, anyone of any shape, size, experience or skill level can play and contribute to their team. Games are played with 5 players on from each team on the field at a time meaning that ALL players are involved in every single play. The result is a ton of fun as everyone gets involved!
Games are played on turf fields and officiated by referees from Southern Ontario Touch Football Officials Association (SOFTOA), and staffed with personnel capable of rendering first aid and treatment for on field injuries.
Each player is issued a jersey, shorts, a mouthguard, their own flag belt, and team portrait.
Registration is now closed, however some new spots may open up. If you are still interested in playing please sign up in the waiting list.
Registration for the 2023 Spring Flag Football season will open in December.
At this time no decision has been made regarding of a Fall Flag Football for 2022.
FLAG TRAINING CAMP
The BMFA will be hosting a flag training camp on Sunday May 28th 2022 at the Norton field for flag registrants between the age of 8 to 13.
The training will focus will on quarterback development, and will also include wide receiver drills, defensive coverage instruction, and flagging techniques.
The training will be lead by Stevenson BONE and Matt BERRY.
Stevenson BONE is a football coach at the University of Guelph, and runs a football camp in partnership with the Manning group in Louisiana. Stevenson previously played quarterback at the University of Western Ontario where he was part of the Vanier Cup championship in 2017.
Matt BERRY has coached both tackle and flag football for over 10 years, and previously played football from peewee through to university. Matt specializes in wide receiver and defensive back development with a strong focus on fundamentals. Matt is also the minor peewee convener age group.
2022 Spring Flag Football
The Burlington Minor Football Association (BMFA) is pleased to announce the return of a Spring Flag Football season.
The details of the season are listed in the paragraphs listed below.
Season Start and End
The season will commence on Saturday April 23rd 2022 and will be complete by Sunday June 26th 2022.
The season will be comprised of 10 games, plus playoffs of 5 on 5 football.
Game days and times
8 of the 10 games will be played on Saturdays and the remaining will be played on weeknights.
Weeknight games will be played between 5PM to 9PM.
Saturday games will be played between 9AM to 7PM.
Game times will be set based on division play, and will be played during a set time frame for the season.
The entire season schedule will be posted at the beginning of the season.
Division & Division numbers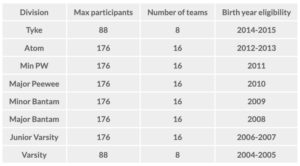 ** the numbers listed above are subject to change based on demand and the availability of coaches and fields. **
Registration Details
The registration fee for this program is a $285. This fee includes the Football Ontario registration.
If you have a credit, an email will be sent to the address you previously used to register with the BMFA. Included in the email will be instructions on how to access the credit. Please use the code assigned to you.
If the division you are attempting to register with is full you will be able to register on a waiting list.
Friend and Coach Requests
If you have a friend or coach request please list them while you are registering. This is the most efficient way for the request to be fulfilled.
COVID
At this time COVID protocols do not affect outdoor activities, and all children will be eligible to play, regardless of vaccination status.
The only potential COVID protocol that may affect the season, at this point, is gathering numbers.
If the season is cancelled prior to the beginning of the season the total fee, minus the Football Ontario fee ($22.50) will be returned to the registrant. If the season is cancelled during the season a prorated refund amount will be calculated.
Dates
Registration Closed – March 25th 2022
Week One of season – April 23rd 2022
Picture Day – May 7th 2022
Playoffs – June 24th to June 26th 2022
Female teams and League
The Spring Flag season is a co-ed league, and on a yearly basis has seen a steady increase of female participation.
Each year the league rosters many all female teams which has led to many players and parents asking about the availability of an all female league. At this point the BMFA will continue to offer a co-ed league only, but if there is significant interest a league could be formed.
The BMFA would like to form co-ed, female, and male representational teams for future Football Ontario tournaments.
Coaching discount
Without the support of our coach's this program is a no go. In appreciation of the contribution to the program head coaches will be eligible for a $75 credit towards a player's registration.
Coaching Requirements
The BMFA requires the following from coaches:
1) Register as a coach with the BMFA
https://burlingtonfootball.sportngin.com/register/form/902906388
2) Register as a coach with Football Ontario. The fee for this registration will be reimbursed.
https://app.teamlinkt.com/register/go/footballontario/6871
3) Complete an online concussion awareness training module called"Making Headway". This training is free, and can be completed at anytime.
https://coach.ca/nccp-making-head-way-sport
4) To submit a Vulnerable Screening police background check no older than 2 years. The fee to conduct the screening will be reimbursed.
https://www.haltonpolice.ca/en/services-and-reporting/record-checks.aspx#Vulnerable-Sector-Check-
5) Complete the community sport training. This training is online, and offered in group sessions through Football Ontario. New coaches have 1 year to complete the training. The fee for this training is reimbursed upon successful completion of the course.
Conveners and Volunteers needed
This program is run exclusively by volunteers, and its success is dependent on having enough people to coordinate and operate the program.
If you are interested in volunteering or coaching please send an email to, Matt Berry at flag@burlingtonfootball.ca
Thank you
Matt MCLEOD
President
BMFA