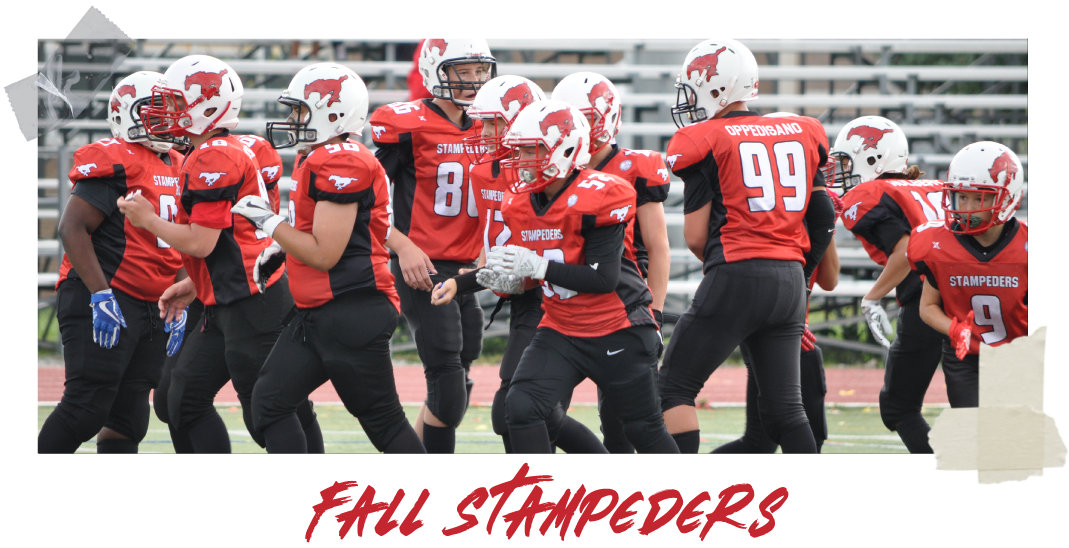 The Fall Tackle program is dedicated to grassroots representative tackle football. Our goal is to develop basic skills and an understanding of the game for new players and to enhance the skills of returning players. For over 50 years our focus has been on building camaraderie, sportsmanship and a love of the game through competition. Burlington plays in the Ontario Fall Football League (OFFL).  The OFFL is a tiered league and it is our goal to field teams in Tier 1 in the u10, u12, and u14 age divisions.  Tryouts, numbers and various factors determine what level of play is best suited for the player.
At the BMFA, we are committed to supporting our families who may require personalized payment plans whether on a monthly or weekly basis. This option is also available for families who have children in multiple programs (e.g Fall and Summer Stampeders). The information is kept confidential and we will work alongside you to ensure our support and personalized plans. For more information, please email the Registrar at registration@burlingtonfootball.ca.

Age Groups
We currently plan to field teams in the following age groups:
u14 – Bantam (2009-2010)
u12 – Peewee (2011-2012)
u10 – Atom (2013-2014)
Practice & Game Schedule
Our practice & game schedule is currently still under review as we book fields with the City of Burlington and await further information from the OFFL.  We will update this page as further information becomes available.
Practices will begin in August.  Generally, teams have practice two or three nights a week for 2-2.5 hours (i.e. 6:00-8:00 or 6:30-9:00) depending on the age group and availability of fields.
Games will likely begin on the first week of September and usually take place on Sundays with younger teams playing earlier in the day.
What Equipment is Needed
As part of your player fee, you will get excellent football equipment.  The BMFA provides it all, lending it to players for the season and until it is returned at the end of the season. We also provide mouth guards.

Players also get a football jersey that is theirs to keep after the season.

Players supply their own cleats.  It's also generally best to have a large bag to keep your equipment in, and players must supply their own water bottles.
Field Locations
As we receive our September / October practice schedule we  will update everyone appropriately.
NELSON HIGH SCHOOL:
4181 New St, Burlington, ON L7L 1T3
NOTRE DAME CATHOLIC SECONDARY SCHOOL:
2333 Headon Forest Dr, Burlington, ON L7M 3X6
DR. FRANK J HAYDEN HIGH SCHOOL:
3040 Tim Dobbie Dr, Burlington, ON L7M OM3
Equipment Pickup
LOCATION: Nelson High School : 4181 New St, Burlington, ON L7L 1T3
(its around the back in the building at the east end of the parking lot behind the end zone)
EQUIPMENT PICKUP DATES:
Dates & Times will be updated here as information becomes available.
Every Tuesday thereafter you will have the opportunity to exchange or replace items if there is an issue, or if you can't make one of the dates above you can come to get your equipment then as well.
If you have any other questions about the Fall Tackle or Fusion program, please email our fall director, Peter Wilson, at: fallstamps@burlingtonfootball.ca, or you can click the link below to register!