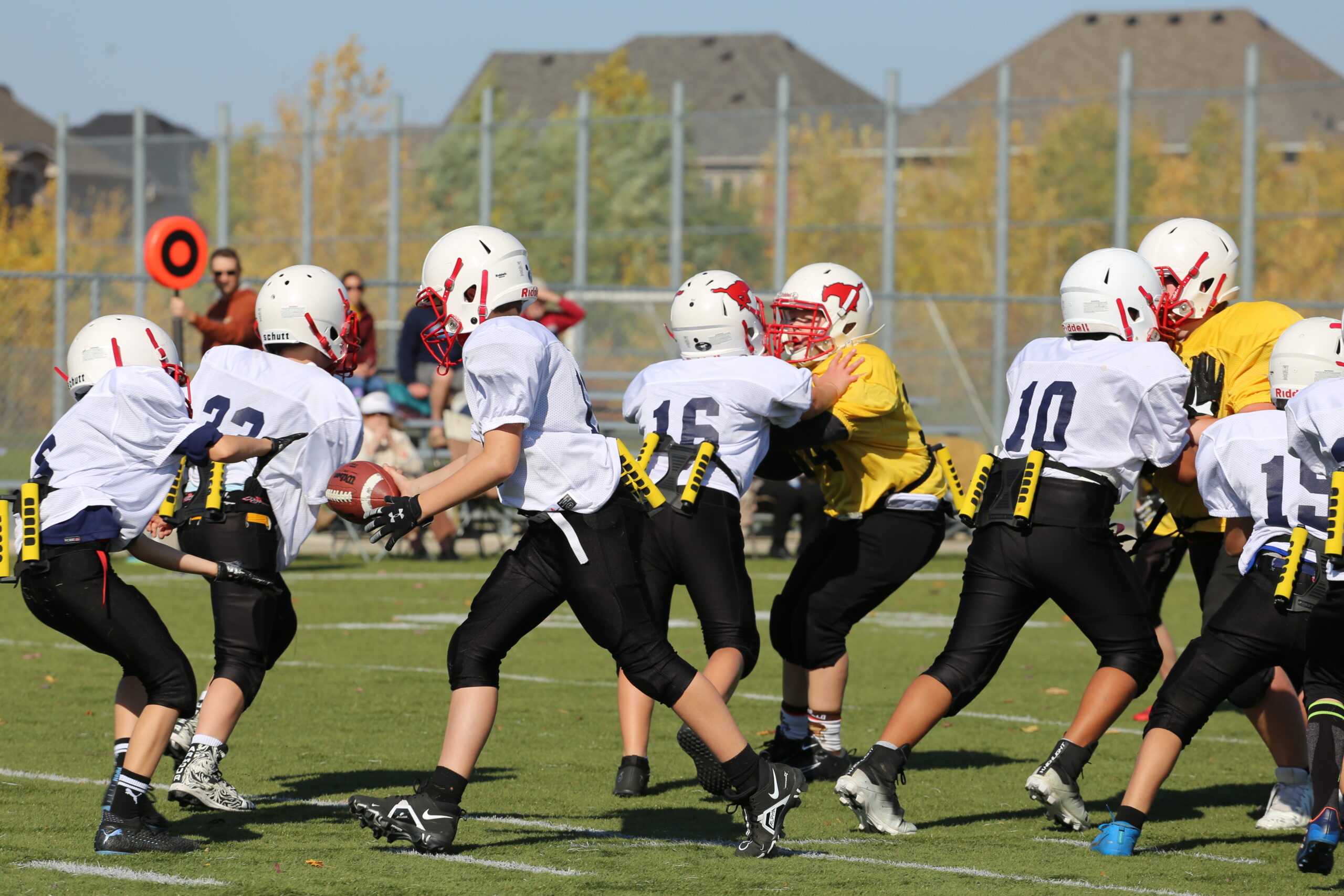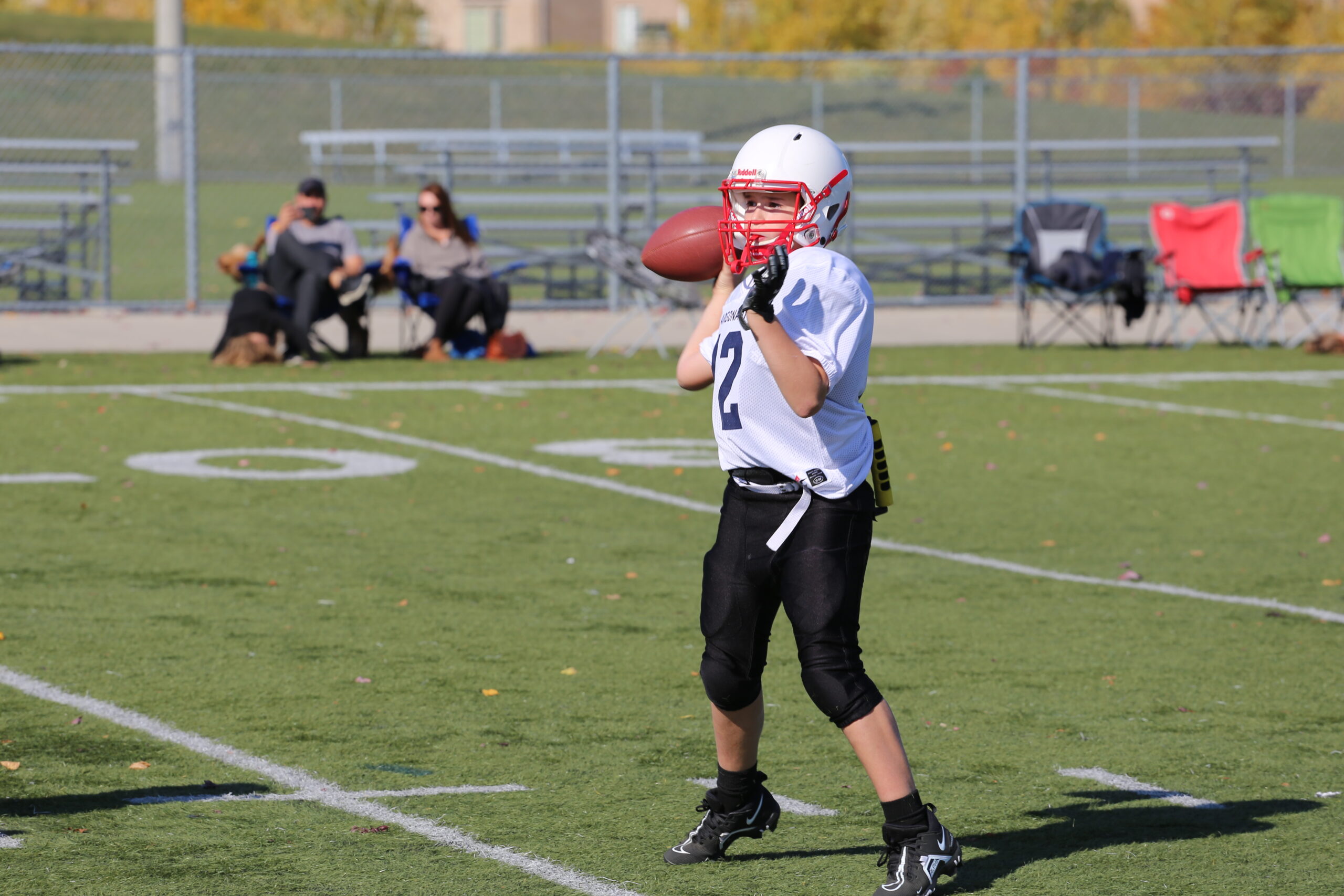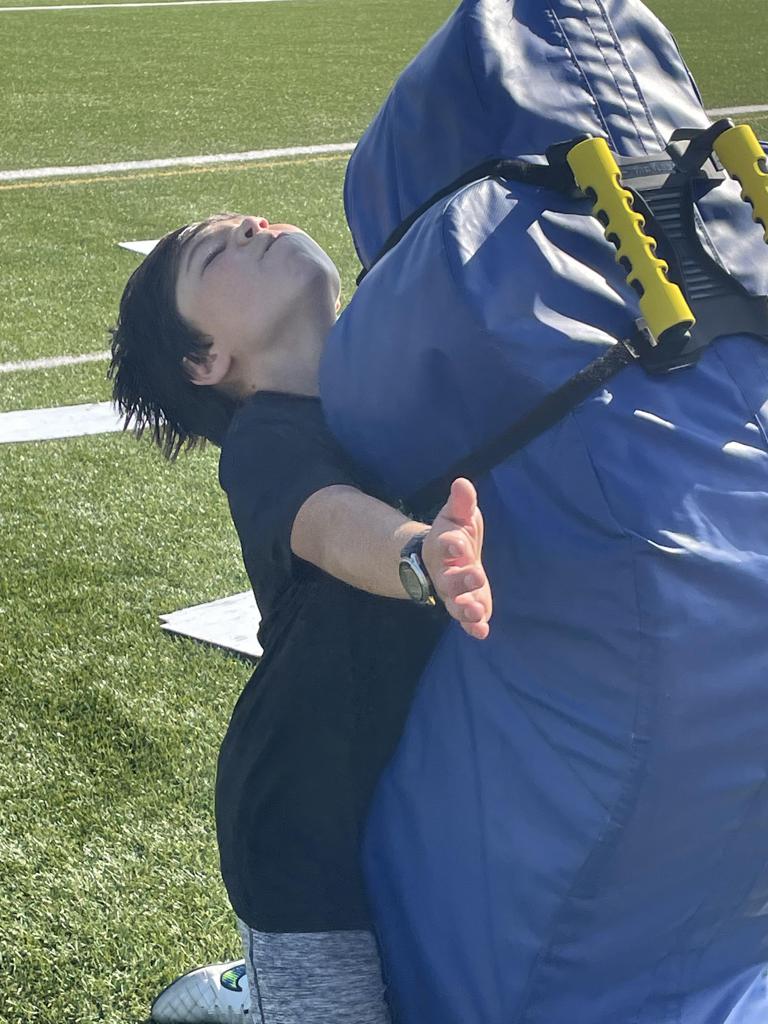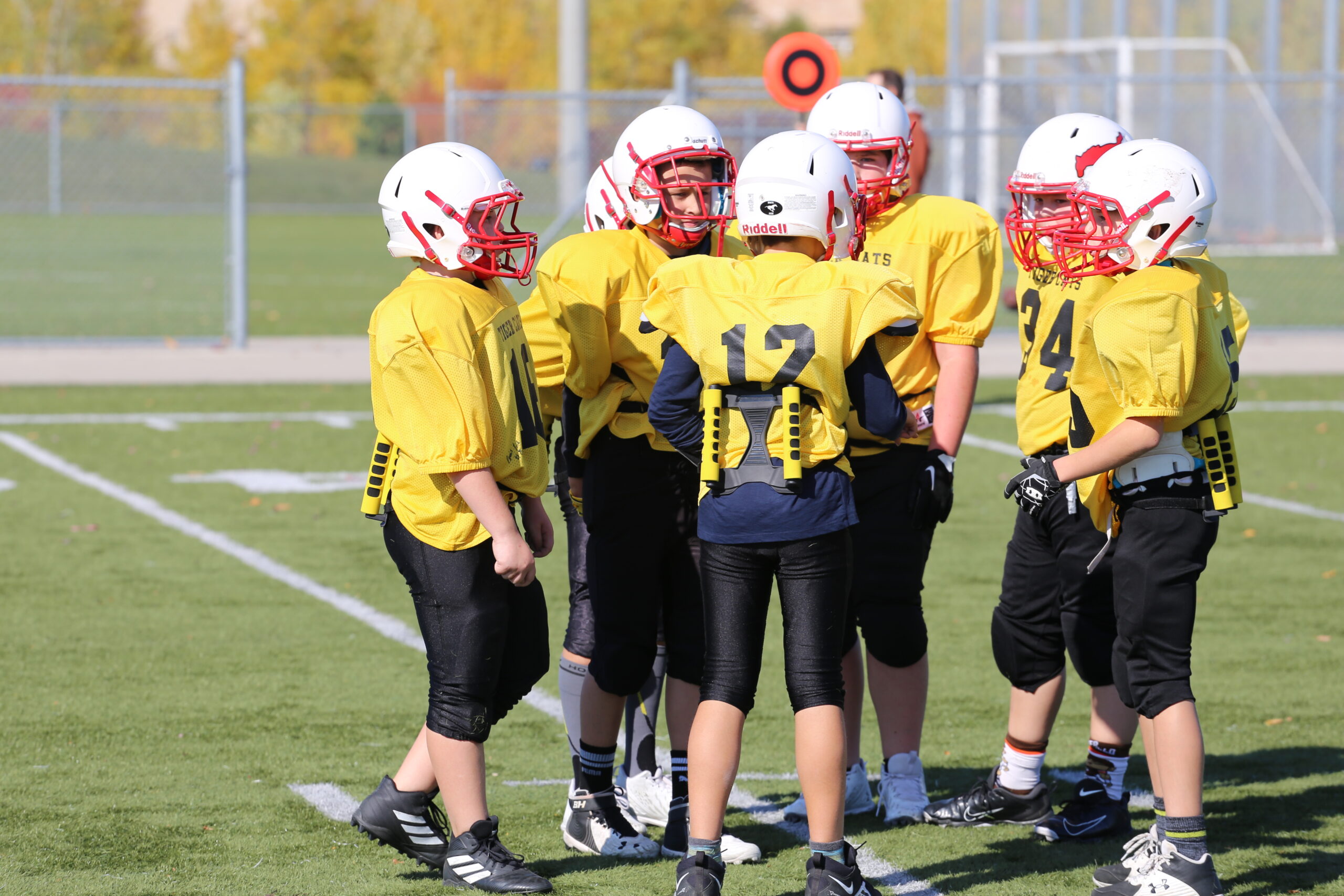 Fusion Football is a limited contact football game that bridges the gap between flag football and tackle football. Players wear full pads and learn all of the traditional fundamentals of the game in a limited contact setting. This approach is providing players an authentic football experience that decreases injuries and increases participation in the sport.
Athletes wear traditional football equipment plus a TackleBar harness around their midsection that holds two removable foam bars on the lower back. The design teaches and requires players to use the proper tackling technique while wrapping up the ball carrier and pulling off a foam bar from the harness to end the play. With this approach, players learn to refine their technique without tackling a player to the ground.
This registration includes BMFA ($482) and Football Ontario Touch Membership ($18) fees.
All safety equipment is provided.  All each athlete will require is Football cleats.  Each athlete will be fitted with a certified helmet, shoulder pads and practice jersey and game jersey to use for the season.
Mouth guards are provided.
Fusion Football is offered in 2 divisions

U10 (Atom) – Birth Years 2014-2015
U12 (Peewee) – Birth Years 2012-2013

The House league Fusion season will begin August 14, 2023 and run to November 4, 2023.  The season will consist of 8 games including playoffs.  All games will take place in Burlington.
There will be two practices each week, time and location to be determined. A certified Athletic Trainer present to handle any minor injuries that may take place.
All coaches on the field as per Football Ontario regulations will be certified in safe contact training and U14 Community Coach training.

Age Groups
We currently plan to field teams in the following age groups:
u12 – Peewee (2012-2013)

u10 – Atom (2014-2015)
What Equipment is Needed
As part of your player fee, you will get excellent football equipment.  The BMFA provides it all, lending it to players for the season and until it is returned at the end of the season. We also provide mouth guards.

All players will receive their own TackleBar harness that they will keep at the end of the season.

Players also get a football jersey that is theirs to keep after the season.

Players supply their own cleats.  It's also generally best to have a large bag to keep your equipment in, and players must supply their own water bottles.
Field Locations
As we receive our September / October practice schedule, we will update everyone appropriately.
NELSON HIGH SCHOOL:
4181 New St, Burlington, ON L7L 1T3
NOTRE DAME CATHOLIC SECONDARY SCHOOL:
2333 Headon Forest Dr, Burlington, ON L7M 3X6
DR. FRANK J HAYDEN HIGH SCHOOL:
3040 Tim Dobbie Dr, Burlington, ON L7M OM3
Equipment Pickup
LOCATION: Nelson High School : 4181 New St, Burlington, ON L7L 1T3
(its around the back in the building at the east end of the parking lot behind the end zone)
EQUIPMENT PICKUP DATES:
Dates & Times will be updated here as information becomes available.
Every Tuesday thereafter you will have the opportunity to exchange or replace items if there is an issue, or if you can't make one of the dates above you can come to get your equipment then as well.
Friend Requests
Parents can request placement of their child on the same team as their child's friends at the time of registration.  If you've already registered and missed this, you can submit a request HERE.  There are limited roster spots available on teams, so we can't make any promises about team placement, especially as we approach the start of practices, but we'll do what we can.

If you have any other questions about the Fall Tackle or Fusion program, please email our fall director, George Shamoun, at: playerdevelopment@burlingtonfootball.ca, or you can click the link below to register!

WRAP AND RIP
The TackleBar harness teaches proper shoulder tackling technique and skill development. The defender must track and engage with proper form tackling technique while wrapping the ball carrier and ripping a bar from the harness. Players are able to practice proper breakdown, body positioning, and engagement. It's a true simulation of live tackling without putting players through the wear and tear of full contact.