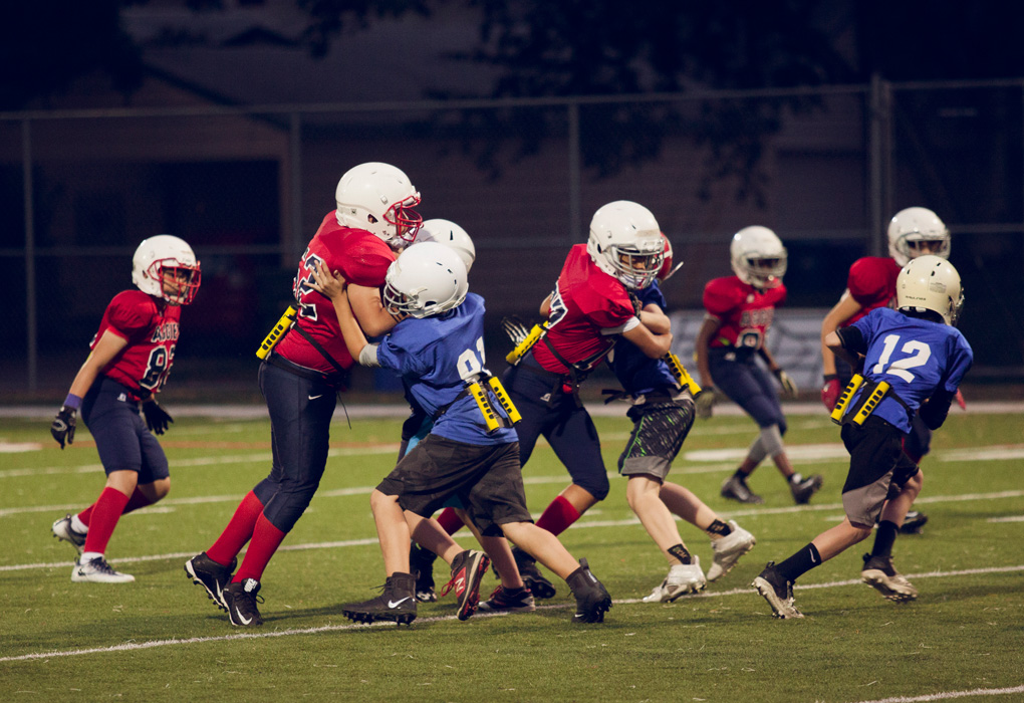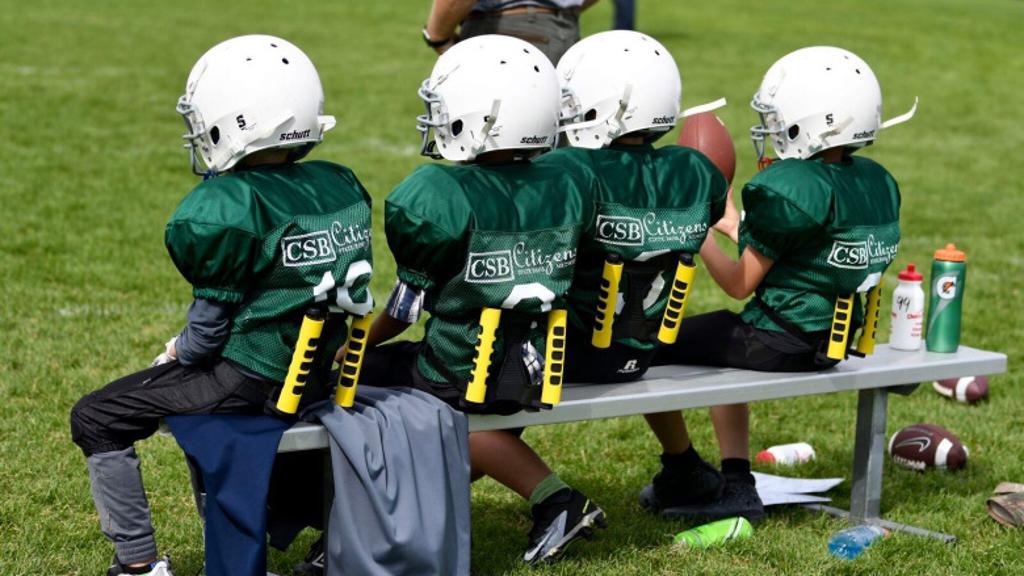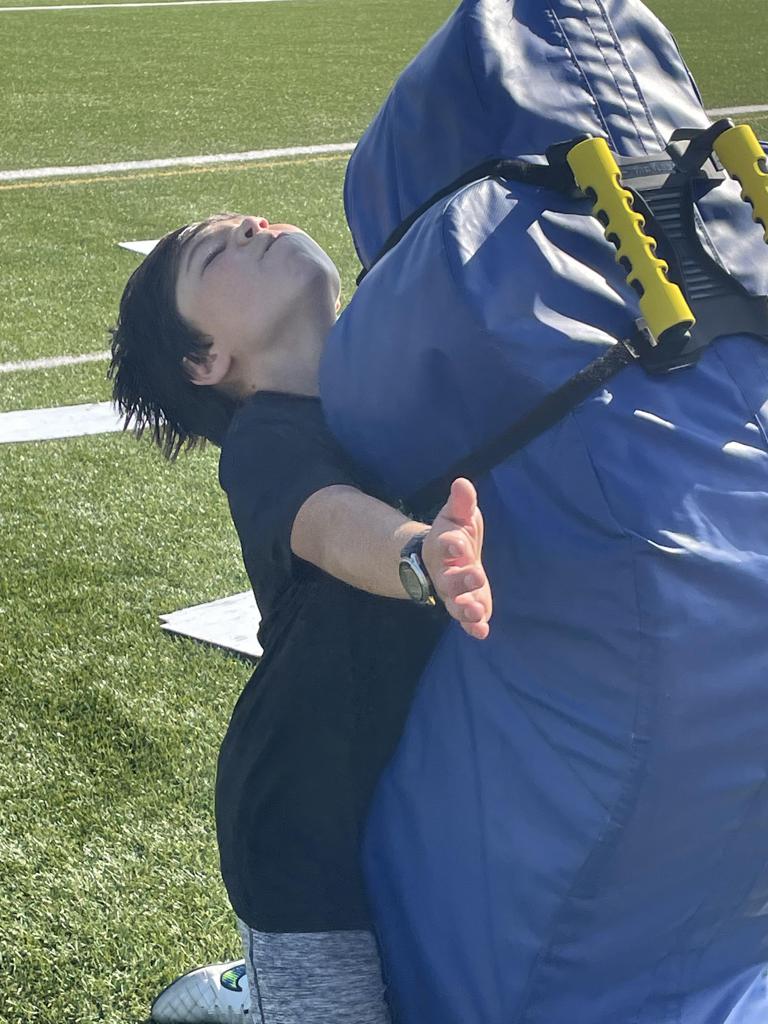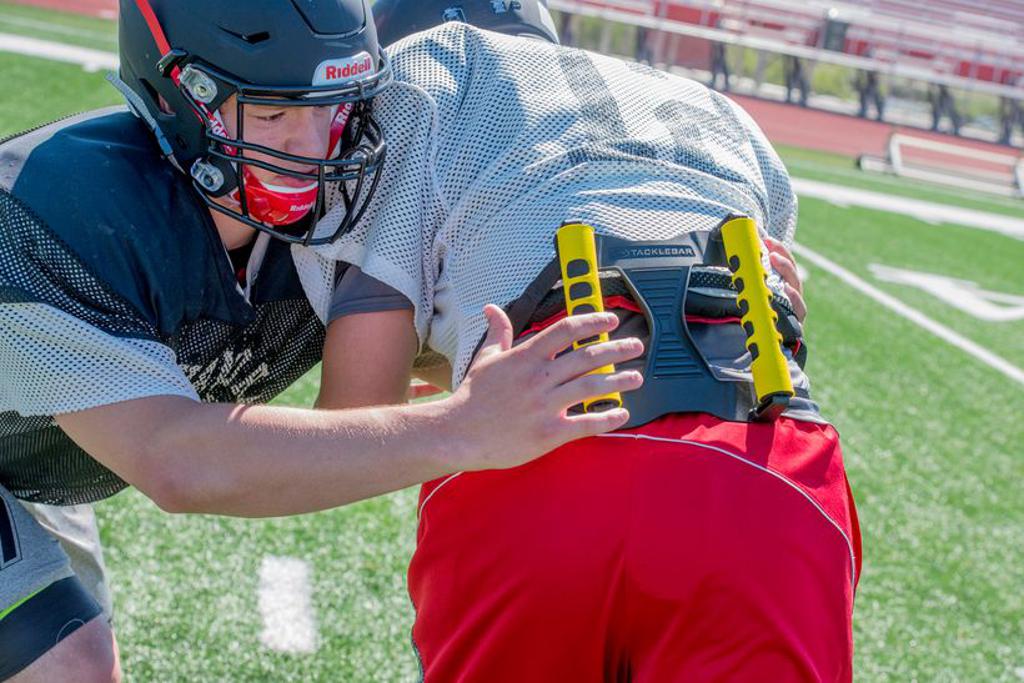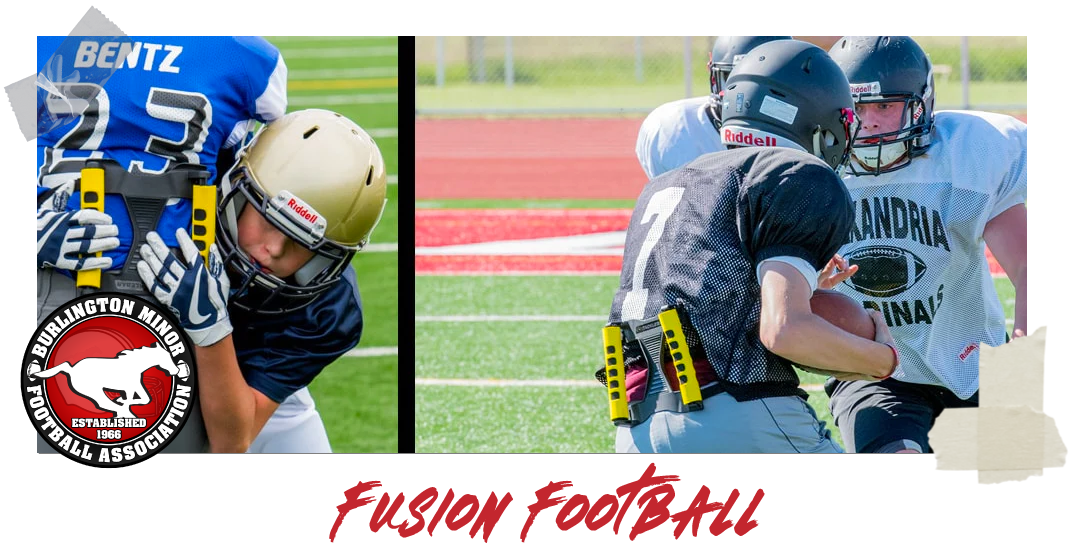 Fusion Football, or "TackleBar Football" is a limited-contact game that helps to bridge the gap between the BMFA's Flag Football Program and our Tackle Football Programs.  Players wear traditional football equipment with the TackleBar harness around their midsection that holds two removable foam bars on the lower back.  The design teaches players to use the proper shoulder tackling technique by requiring them to wrap up the ball carrier and pull off a foam bar from the harness to end the play. This approach allows players to refine their technique without tackling players to the ground, decreasing impacts as they learn to play the game the way the pros do it.
At the BMFA, we are committed to supporting our families who may require personalized payment plans whether on a monthly or weekly basis. This option is also available for families who have children in multiple programs (e.g Fall and Summer Stampeders). The information is kept confidential and we will work alongside you to ensure our support and personalized plans. For more information, please email the Registrar at 
registration@burlingtonfootball.ca
.

Age Groups
We currently plan to field teams in the following age groups:
u12 – Peewee (2011-2012)
u10 – Atom (2013-2014)
u8 – Tyke (2015-2016)
Season Format (Practices & Games)
We are still working to confirm fields for our fall Tackle and Fusion seasons, so we do not yet have the days of practices or games available.  We will update this page as soon as we receive further information from the city. 
Practices
There will be two practices per week, generally on evenings through the week.
Games
We are planning for the Fusion Football season to include 6 regular season games (played in house against other BMFA fusion teams) and two playoff games.  Games will likely be played on Saturdays or Sundays. 
What Equipment is Needed
As part of your player fee, you will get excellent football equipment.  The BMFA provides it all, lending it to players for the season and until it is returned at the end of the season. We also provide mouth guards.

All players will receive their own TackleBar harness that they will keep at the end of the season.

Players also get a football jersey that is theirs to keep after the season.

Players supply their own cleats.  It's also generally best to have a large bag to keep your equipment in, and players must supply their own water bottles.
Field Locations
As we receive our September / October practice schedule, we will update everyone appropriately.
NELSON HIGH SCHOOL:
4181 New St, Burlington, ON L7L 1T3
NOTRE DAME CATHOLIC SECONDARY SCHOOL:
2333 Headon Forest Dr, Burlington, ON L7M 3X6
DR. FRANK J HAYDEN HIGH SCHOOL:
3040 Tim Dobbie Dr, Burlington, ON L7M OM3
Equipment Pickup
LOCATION: Nelson High School : 4181 New St, Burlington, ON L7L 1T3
(its around the back in the building at the east end of the parking lot behind the end zone)
EQUIPMENT PICKUP DATES:
Dates & Times will be updated here as information becomes available.
Every Tuesday thereafter you will have the opportunity to exchange or replace items if there is an issue, or if you can't make one of the dates above you can come to get your equipment then as well.
Friend Requests
Parents can request placement of their child on the same team as their child's friends at the time of registration.  If you've already registered and missed this, you can submit a request HERE.  There are limited roster spots available on teams, so we can't make any promises about team placement, especially as we approach the start of practices, but we'll do what we can.
IT'S NOT TACKLE…IT'S NOT FLAG…IT'S FUSION
Fusion Football is a new program being offered by the BMFA as part of it's Player Development Model. 
It is meant to bridge the gap from flag football to tackle football where players can learn the fundamentals of the game in a fun and competitive environment.
Tackle bar will be used to teach each player how to use heads up fundamentals as part of our safe contact program.
Due to Covid-19 Restrictions, we have had to modify our plans for the Fusion Football Program for this year.  To learn more, please visit our Modified Fusion Football Program page where we will post the most up-to-date news on the program as restrictions evolve during the easing of lockdowns.

If you have any other questions about the Fall Tackle or Fusion program, please email our fall director, Peter Wilson, at: fallstamps@burlingtonfootball.ca, or you can click the link below to register!

WRAP AND RIP
The TackleBar harness teaches proper shoulder tackling technique and skill development. The defender must track and engage with proper form tackling technique while wrapping the ball carrier and ripping a bar from the harness. Players are able to practice proper breakdown, body positioning, and engagement. It's a true simulation of live tackling without putting players through the wear and tear of full contact.